---
Monday, 14 May
Welcome to Marseille, where it's not as warm as it should be, but we promise it'll be better tomorrow! RIPE 76 looks to be a record-breaking RIPE Meeting with 833 attendees registered (!!) and 415 checked in at the end of the day.
Monday's programme highlights:
Parallel tutorials on Event-driven Network Automation and Orchestration, IPv6 Security Course Preview and SRv6 Network Programming: Technology Update and Deployment Use-Cases
A lively Newcomers' Intro, complete with an ice breaker and interactive quiz
RIPE Chair Hans Petter Holen welcomed attendees, noting that this was the first RIPE Meeting with childcare available
A presentation from Artyon Gavrichenkov, Qrator Labs, looked at a new type of amplification attack that has the potential to generate larger DDoS attacks (noting a 1.7TB attack recently seen)
Randy Bush, IIJ, presented on a new approach to large-scale data centre routing and replacing the BGP best-path decision algorithm with Shortest Path First (SPF)
Erik Bais, A2B, pointed out that some of the blame for amplification DDoS attacks lies with bad network hygiene, generating questions on how to best to deal with amplification vulnerable servers in networks
A lightning talk from Jordi Palet Martinez, The IPv6 Company, sparked a discussion on where the push for more encryption leads in the face of the interests of LEAs and other parties
A look at a new peering manager tool from Guillaume Mazoyer
An update from William Sylvester on the RIPE Accountability Task Force
The day's programme ended with updates from the BCOP Task Force and the RIPE Accountability Task Force before attendees gathered for the first social events of the meeting week: Meet the RIPE NCC Executive Board and the RIPE 76 Welcome Reception.
Our favourite tweets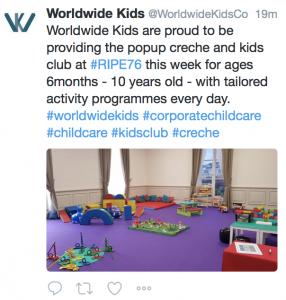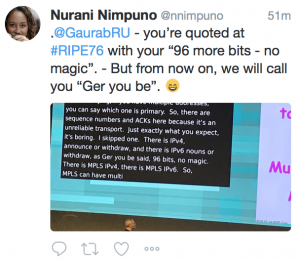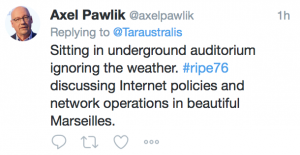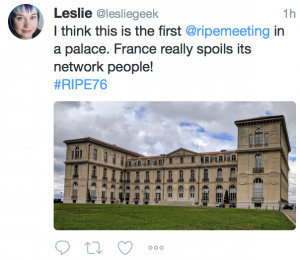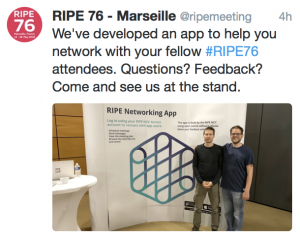 Tuesday, 15 May
Day two of RIPE 76 drew to a close with 849 attendees registered and 620 checked in at the end of the day. As the good weather made a steady comeback, attendees flocked to four plenary sessions taking place through the day.
Tuesday's Programme Highlights
The day ended with a BoF for operators and the IETF. See you tomorrow morning for the first working group sessions – Address Policy and DNS!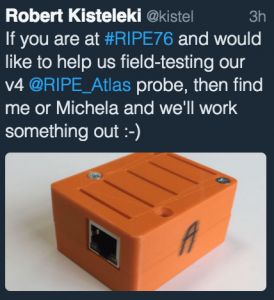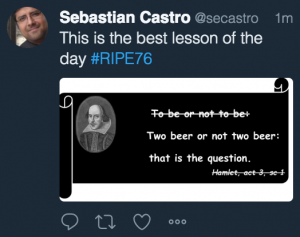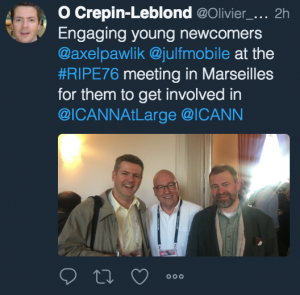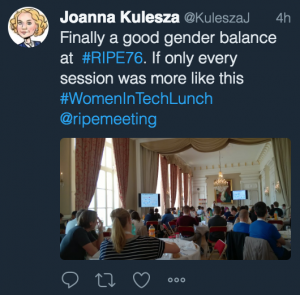 Wednesday, 16 May
Day three of RIPE 76 saw 686 attendees checked in for the first day of RIPE Working Group (WG) sessions.
Wednesday's Programme Highlights
Address Policy WG
DNS WG
A presentation on NSEC Aggressive Caching Measurements covering DNSSEC security and performance with an explanation of aggressive cache versus random subdomain attacks
A presentation on Measuring ATR (Additional Truncated Response), which is a hybrid response to problems around the handling of large UDP packets and IP fragmentation
The importance of DNSSEC Key Rollovers when using DNSSEC and managing the complexity of DNSSEC operations
Connect WG
Address Policy WG II
Feedback from the RIPE NCC's Registration Services Department:

Should a waiting list be used after full IPv4 exhaustion?
What should be done with the very small final pieces of IPv4?
Is there enough IPv4 address space reserved for IXPs?
Three policy proposal discussions:

2018-01 Organisation-LIR Clarification in IPv6 Policy
2018-02 Assignment Clarification in IPv6 Policy
2018-03 Fixing Outdated Information in the IPv4 Policy

In the Open Policy Hour, a discussion about removing IPv6 PI
DNS WG II
DNS status report from the RIPE NCC: four new K-root instances online since RIPE 76. Dushabe K-root is online and was funded by the RIPE NCC Community Projects Fund

The RIPE NCC Executive Board has approved the proposal for a new 100G site

Results from a survey on DNS privacy that showed 68% of respondents considered privacy important to their business and saw this as a positive marketing point

Biggest obstacle to enabling encryption is that products are not available, 70% skeptical about using hosted DNS privacy services
Database WG
Update on the Registry Data Access Protocol (RDAP),  used to enable secure access to information such as that in the RIPE Database

Today this is used by the five FIRs and also by Domain Name Registries including .com and .net, and many ccTLDs

Main concepts of the General Data Protection Regulation (GDPR) and how the RIPE NCC is implementing this for the RIPE Database
A new approach that makes it easier to access information in the RIPE Database by not requiring specific skills and allowing common-language written queries.

A service is available for testing and feedback is being sought
RIPE NCC Services WG
Favourite Tweets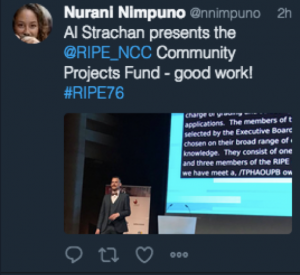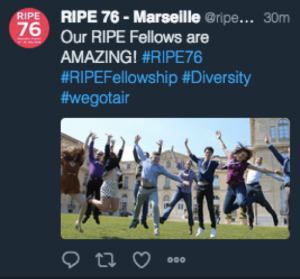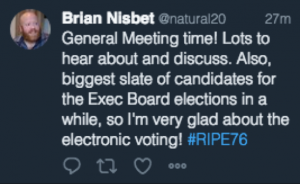 Thursday, 17 May
Day four of RIPE 76 featured another full day of RIPE Working Group sessions. Without a doubt, RIPE 76 is the largest RIPE Meeting to-date with 707 checked in at the end of the day (200 of those first-time attendees).
Thursday's RIPE Working Group session highlights:
Routing WG
The ARTEMIS project (funded by the RIPE NCC Community Projects Fund) 

showed a new way to quickly counter BGP hijacks

A new idea to prevent IP address spoofing, 

using a new BGP community to set BGP local preference metric to zero

A proposal to use AS-Cones to 

bring the functionality of AS-sets to RPKI – with a mix of positive and negative feedback from the audience on the idea 
Cooperation WG
Anti-Abuse WG
Open Source WG
IoT WG
IPv6 WG
MAT WG
A tool for real time monitoring and trouble shooting of web browser sessions
An update on RIPE NCC's measurement tools highlighting a host of recent developments and new features in RIPE Atlas, RIPEstat, RIPE IPmap, and a new visualisation for examining the infrastructure underlying user to user connections
After the working group sessions, a BoF was held to discuss the needs of government and large organisations when it comes to IPv6 address allocations and ASN assignments, followed by dinner at the Stock Exchange Palace at the heart of the historical centre of Marseilles.
Our Favourite Tweets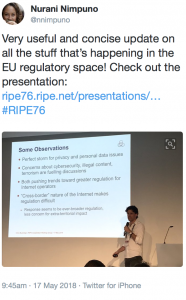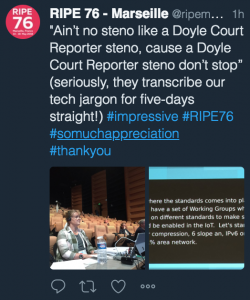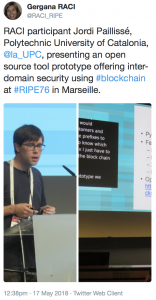 Friday, 18 May
The last day of RIPE 76 saw 737 attendees checked in of a total of 778 registered, making it by far and away our biggest meeting yet!
Friday programme highlights:
A look at how the RIPE NCC helps support network operator groups (NOGs) from across its service region, followed by talks from representatives from several of those very NOGs
A discussion aimed at reaching an agreement on the process involved in selecting a new RIPE Chair
A new state of the art method for detecting DDoS attacks by using traffic snapshots
The RIPE Meeting technical team update covering new APs, new methods for graphing network usage at the meeting and one server lost to the rain!
The closing remarks from the RIPE Chair thanking all our attendees for making their way to RIPE 76, and a special thank you to the WG co-Chairs, the PC, and of course, the stenographers.
Meeting Statistics:
737 attendees checked in
200 first-time attendees
RIPE Networking App (totals for the week): 391 participants; 890 messages; 1383 meetings!
Attendees from 57 countries
RIPE Working Group co-Chair Changes
Address Policy WG: Erik Bais will replace Sander Steffann

Connect WG: Will van Gulik joins Remco and Florence
RIPE Programme Committee Changes
No change for the PC this RIPE Meeting: Ondřej Surý and Peter Hessler were both re-elected
The 2018 Rob Blokzijl award winner was announced at the RIPE Dinner. Congratulations to Wilfried Woeber who was awarded for his substantial contributions to the development of the Internet in the RIPE NCC service region.
Our favourite tweets: