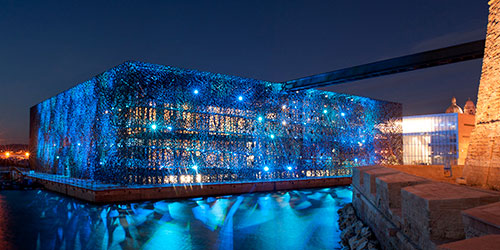 When: 21:00 – 01:00
Where: MuCEM
Address: 7 Prom. Robert Laffont, 13002
Overlooking the beautiful Old Port of Marseille, with its incredible architecture, the terrace of the MuCEM is the place to be. We look forward to seeing you for an evening of networking, tasty appetisers, drinks, and a lot of fun!
Please note that the entrance to the MuCEM Terrace is located at the Fort Saint-Jean.
[View map]
Buses:
Buses will pick up guests at 20:45 at the street entrance of the Palais du Pharo. Return buses will operate every 30 minutes from 23:00 to 01:00.
The ride is about 20-minutes long.
Walk:
The venue is 15 minutes' walk from the city centre.
Sponsored by:

© Photo Lisa Ricciotti – Architectes Rudy Ricciotti et Roland Carta